I am very excited to take some time to provide an update on the amazing work that the teams at Digital Polygon, Reimagine Well, and CalArts 'healthcare by design' class have done since the initial hackathon that we hosted in June of 2019.
A QUICK RECAP ON THE GOALS:
The goal of our hackathon was to create a functional interactive flow for a MadLibs engine based on a User Journey Map provided by the CalArts healthcare by design team. The MadLibs engine offers an interactive experience for users. These interactions range from filling in MadLibs to watching entertaining videos.
Where We Are Today
It has been a little over a year since we hosted the initial hackathon and breathed life into the digital experience platform that is being used to host the revolutionary work that Roger Holzberg and the team are working on. The Digital Polygon team has worked closely with Reimagine Well and the CalArts student team to build and launch two interactive experiences that promote an atmosphere of positivity, mindfulness, and personal wellbeing for everyone involved.
Experience 1: Mountains & Lakes - Movie Making Magic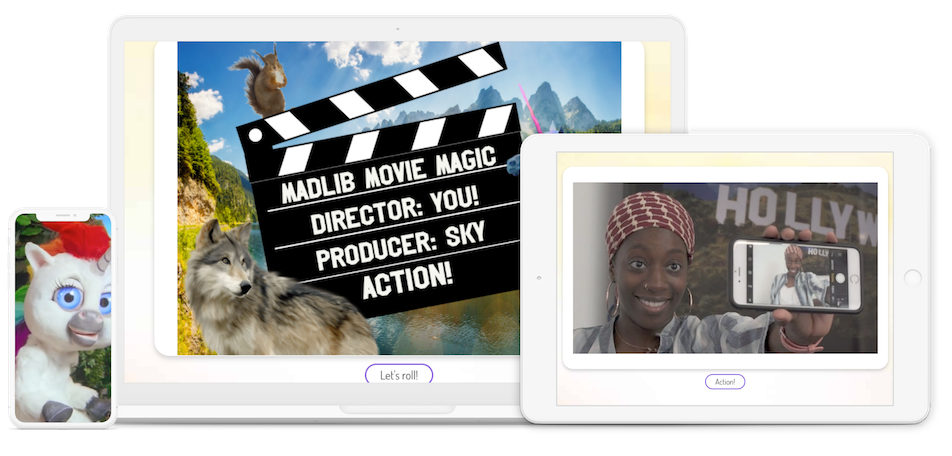 Getting these digital experiences to work across different devices was key to ensuring easy access for as many potential users as possible.
The MadLibs engine was the original experience design, which inspired us to host the hackathon. In this experience, patients can join SKYE, a Hollywood movie producer, to write and direct a red carpet film. The experience starts with a series of entertaining questions and funny videos that develop the text for the storyline. Once complete, the patients write the script using the answers they provided in the earlier questions to create a movie script worthy of the red carpet!
Experience 2: Ning & Benny's Grand Adventure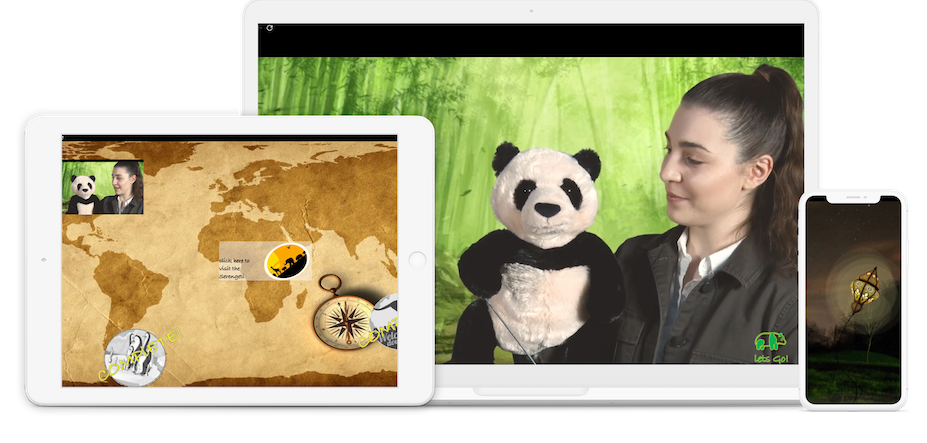 Showing the versatility of the platform, the second experience we developed with ReimagineWell and the CalArts student team was a choose-your-own-adventure story called "Ning and Benny's Grand Adventure." In this interactive experience, patients went on a journey with Ning the Panda or Benny the Dog across the globe Africa to Antarctica to find pieces needed to build their Lantern of Hope! The experience is filled with interactive videos and user prompts that allow patients to feel immersed in the adventure.
The Results
"To be able to bring to light the creative work that my 'healthcare by design' class of students at the CalArts Theater school did, and enable that creative vision to be utilized by pediatric patients for years to come is a dream come true. This simply could not have happened without Digital Polygon.", said Roger Holzberg, founder of Reimagine Well and CalArts professor.
The feedback from these experiences from both patients and patient care coordinators has been tremendous. It is our passion to see people succeed and we are extremely excited to have been able to support ReimagineWell in their vision to better the lives of patients.