Over the course of my career I have had the opportunity to work for and with some amazing organizations, mostly large but some small, across the private and public sectors. During that time I was blessed to work with an incredible number of incredibly smart people that spanned a number of disciplines including technology, project management, business strategy, experience design, and a number of subject matter experts across various fields too numerous to count. In that time, I have learned a tremendous amount from each and every one of my former clients and colleagues. We often had great success. Occasionally, we did not. The question remains, could we have done better?
I have always been a true believer of the power of small, cross-functional teams that leverage agile methodologies to solve our clients' toughest challenges. I've been around long enough to remember the days when waterfall (WF) was the norm. As a young technology consultant it never made much sense to me given the sequential nature of WF and the ever changing business requirements. I often asked the question "why are we doing it this way?", only to be told "this is the way we always have done it". As my career progressed and XP and then Scrum became mainstream, I saw the success rate of technology projects increase tenfold due to the experimental nature of Agile and the ability to pivot as requirements changed.
There was one exception to the increase in success; large projects with numerous Scrum teams that had large amounts of dependencies among them continued to struggle to deliver. The power of Scrum is a small team's ability to focus on their individual backlogs to deliver on their commitments and pivot as feedback was received. Working across development teams was not completely built into the Scrum model. In situations were there were two or three teams, Scrum Masters could often manage by coordinating among themselves, however, any more than that and communications among teams began to fail. As businesses started adopting digital strategies to support their business transformation initiatives focused on the customer, the need for development teams and a variety of other technical and non-technical teams to coordinate on a regular basis pushed Scrum to its limits. Enter Scaled Agile.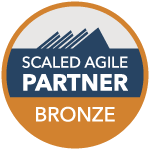 The Scaled Agile Framework, otherwise known as SAFe, combines the powers of Lean and Agile to enable enterprises to scale to meet the demands of the digital age. The framework ensures coordination between the portfolio, programs and teams ensuring alignment and providing a mechanism for continuous feedback. The framework is predicated on Seven Core Competencies:
Lean-Agile Leadership
Team and Technical Agility
Agile Product Delivery
Enterprise Solution Delivery
Lean Portfolio Management
Organizational Agility
Continuous Learning Culture
Over the course of the next several weeks we will dive into each of the Seven Core Competencies and the value each brings to a burgeoning Lean enterprise. Digital Polygon recently announced our partnership with Scaled Agile and we are excited to bring this wealth of knowledge to our clients in an effort to support their business transformation efforts.
References:
About SAFe - https://www.scaledagileframework.com/about/