After two years of virtual conferencing and collaboration, Drupal enthusiasts across the country were finally able to get together in person at DrupalCon North America 2022 last month. A few members of our Digital Polygon team got to head out to Portland, Oregon and spend the week networking, sharing knowledge, and gaining new insight. While each of our team members have different stories to tell about their experiences, their favorite part of DrupalCon was the same - it was great to be back!
Our Experience
With all of the excitement and eagerness around DrupalCon returning to in-person, the event had a lot to live up to, and it definitely didn't disappoint. The Drupal Community is built on collaboration, contribution, and working together, so it was great to connect face to face and hear about what great work is being done in the Drupal community. We had the chance to meet partners that we've been working with, reconnect with past colleagues, and even meet members of our remote team in person for the first time!
We also had the opportunity to contribute to this year's DrupalCon as a sponsor and had a few of our team members give presentations. We were able to connect with others from our booth, and we even got to lead a fun Jenga game in the expo hall! It was great to be able to have some fun while networking.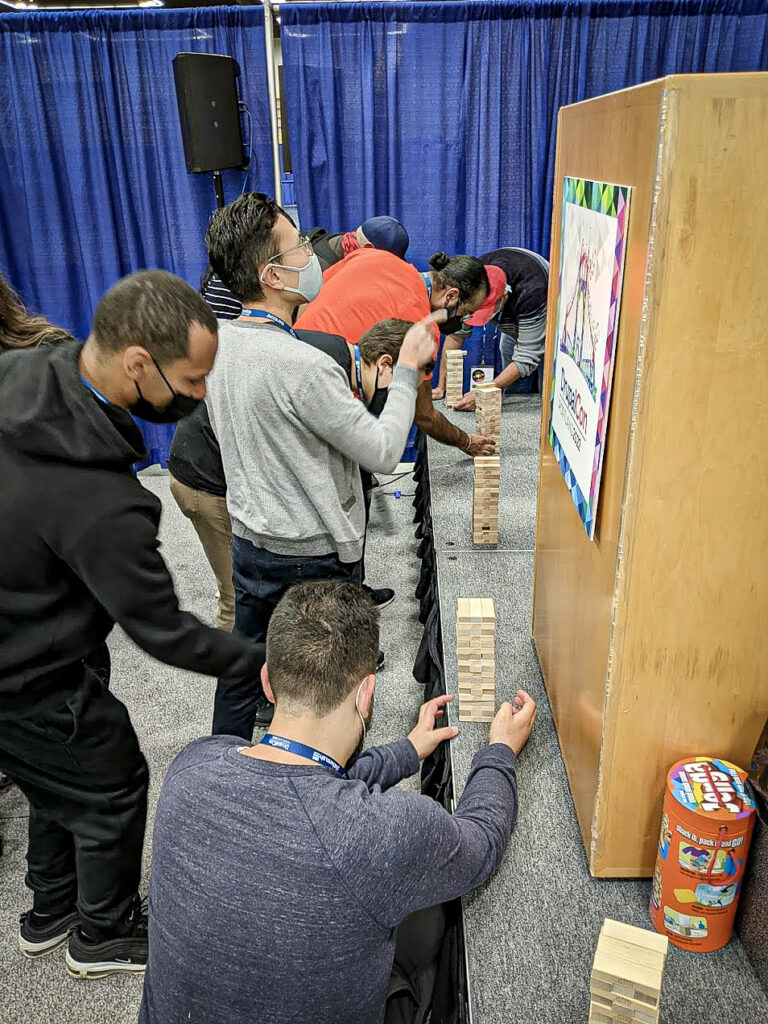 This year, we had two team members give presentations. John Doyle, our CEO, gave a presentation on Marketing Meets Privacy: What You Need to Know. In his presentation, John discussed how privacy legislation is changing throughout the United States and what these changes mean for web and marketing teams. Stephanie Bridges, our Technical Architect, gave a presentation on The Three Keys to a Successful Migration as a part of the Government Summit: Migration Assistant where she discussed strategy, data models, data mapping, and data migration approaches.
The team really enjoyed being able to share their knowledge with the Drupal Community.
Highlights
Part of what makes DrupalCon so special is the Drupal Community coming together to share knowledge and gain insight from others within the community. Each of our team members that attended come from different backgrounds and support different roles, so we were able to really expand and share our knowledge and perspectives as a team.
Mike, our SEO expert, really enjoyed attending John Picozzi's session on Non-Code Contribution: Using Your Passion and Skills to Power Open Source. This session highlighted the importance of contributions outside of just technology and coding, as well as provided insight on what's happening behind the scenes that is contributing to Drupal's success. We wouldn't be able to have a DrupalCon without the planning, marketing, coordination, execution of events, and the people that support these roles. Without these non-technical contributions, Drupal wouldn't be as widely celebrated as the powerful CMS that it is today.
John, Digital Polygon's president, really enjoyed attending Birds of a Feather; NextJS for Drupal & Drupal + Web3. These sessions were interactive, insightful, and a great outlet for sharing knowledge on new technologies and applications. John was particularly excited about hearing about the work that Chapter Three has done with Next Drupal, since decoupled and headless have been hot topics recently.
Stephanie, our Technical Architect, really enjoyed being able to attend this year as a volunteer for the first time. One of her favorite sessions was Streamlining your Processes and Data Collection with Drupal Webforms by Jasymen Epps as a part of the Government Industry Summit. This session discussed the considerations one needs to account for when converting paper forms to digital, and emphasized the need for empathy in form design. This talk was only available if you were registered for the Government Summit, so it was great that Stephanie was able to attend and share the knowledge that she gained.
Key Takeaways
While the Drupal community has continued to grow and great work has continued to be produced throughout the previous 2 years, there is something special about connecting with others in person. DrupalCon 2022 being back in person this year provided an unmatched opportunity to connect with others, share knowledge, and dig deep into what Drupal is all about.
One of the biggest takeaways from our experience at DrupalCon is that human connection is a key piece to the Drupal Community. In a world where most of us are working remotely, it's important to remember how much that connection means and how important it is for productivity, knowledge sharing, networking, and building a community.
We're really excited about the great stuff happening in the Drupal Community, and we hope you enjoyed reading some of the highlights from our experiences at DrupalCon. With exciting new technologies being developed, contributions being made, and the great work that everyone is doing, there are some great things coming for the future of Drupal.